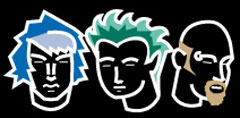 Greetings, my name is, Johnny West, and on this site I hope to reflect the respect I have for, Super Chikan.
I'll include what I know about him, and maybe a few things even he don't know about his self!
Who is Super Chikan?
Mr. James Louis Johnson came into the world during the year 1951, in the Mississippi Delta region. By the age of 6 he had earned a name for himself because of his special understanding of chickens, in which it was his job to tend to them, because he was not quite old enough to "work the [cotton] fields".
Even at an early age, he possessed the wisdom of a grown man and realized, "there has to be an easier way to do this", so he learned how to "talk" like the chickens... and soon ruled the roost. Other people soon noticed his special ability in handling the yard birds and by the age of 6 gave him the name, "Chikan Boy".
So far, as the story goes, nobody has been credited for giving Mr. Johnson his first guitar, which was a "diddley bow", but it would not surprise me if it was his uncle, "Big Jack Johnson".
By the age of 13, he knew what he wanted to do in life, and that was play guitar and entertain people. So he went to the Salvation Army store in Clarksdale, Mississippi, and bought himself an acoustic guitar that had 2 strings on it! It didn't take him long to figure out that them store bought guitars were not always the best, so he started building his own.
MOVING ON UP
In his early adult years, Mr. Johnson became a taxi driver in the town of Clarksdale and because of familiarity with the town and his ability to get you there super fast, he sooned earned the name, Super Chikan.

I'm sure this was also his CB "handle" when he later on made a living as a long haul truck driver, before he decided to dedicate his life to music... and Folk Art.
HONORS and AWARDS
2004 Mississippi Governor's Award for Exellence in the Arts
2006 Library of Congress featured Artist
2010 Blues Music Award-Best Traditional Blues Album of the Year (Chikadelic)
Delta Bluesman Legend Status
Super Chikan Folk Art Guitars
"I was doing recycling before recycling was a word"
Super Chikan-23rd Sunflower River Blues Fest.
"SOMEBODY SHOOT THAT THANG!"
I Went Down to the Crossroads
"and met Super Chikan"
Web Articles featuring Super Chikan
Super Chikan Folk Art Represents Governor's Awards for Excellence in the Arts [ ARTICLE LINK ]
Links to Other Super Chikan Sites
SUPER CHIKAN'S WEB BIOGRAPHY
BUY SUPER CHIKAN'S MUSIC
Super Chikan's Online Store [click On-line Store LINK]
SUPER CHKAN MUSIC REVIEWS
Blues Source-Sum' Mo Chikan [article link]